We make sweets that meet client's needs

You can make original branding stamps and use them for promotional purposes for companies and corporates
For example… In the case of "Wakabayashi Senbei"


For example ... If you want to make your own confectionery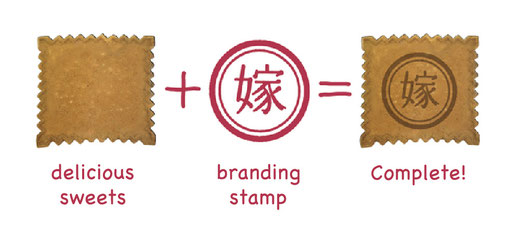 ***************************************
Note 1: Ships immediately after ordering.
Note 2: A long-established taste that has been loved by everyone! ! !
I think  there are many wheat cracker manufacturers in the country, but they rarely use lots of chicken eggs as much as our products. Due to the abundant use of chicken eggs, the aftertaste of eating will drift in your mouth.
Note 3: You can make two kinds of very popular & delicious flour crackers.
・Soft fresh flour cracker in soft DORAYAKI style.
・Gaufrette-style cream cracker sandwich with cream sandwiched between & original branding stamped.
Note 4: Many types of cream cracker sandwiches
・Starting from vanilla cream, there are also matcha cream, banana cream, salt cream etc.